Countertop Filter
An attractive countertop water filter that complements any décor: kitchen, bath or lounge. Easy to install & use. Comes complete with a stainless steel diverter valve that attaches to your faucet. No tools required. Once installed, simply turn on the diverter valve to use the filter. When the tap is turned off, the diverter valve automatically returns to the off position. The Countertop Model is completely portable. It uses replaceable filter cartridges that lasts the average family 2 years.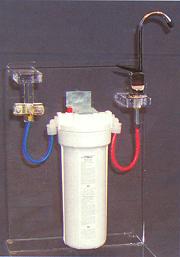 Undercounter Filter
Designed to deliver filtered water full time through its own built-in faucet. Easy to install. Comes complete with faucet and all the hardware required for installation. Delivers filtered water at the touch of a finger whenever you desire. Uses a replaceable filter cartridge that lasts the average family two full years. Attractive, simple, easy to use and effective, this model provides long-term filtration for just pennies a gallon.
Refrigerator Icemaker Filter
Attaches easily to the water line behind your refrigerator, filtering all water before it enters your ice-maker. You can enjoy cleaner, better tasting ice cubes automatically, at just pennies per gallon of filtered water. Uses a replaceable filter cartridge that lasts 2 years for the average family. Also great for installing in automatic coffee makers, and in drinking fountains.