AMSOIL lubricants reduce friction in your engine, your transmission, and your gear boxes. When friction is reduced it takes less energy to turn the wheels of your vehicle, thus increased efficiency and increased fuel economy. Many customers report having to set down their idle on the fuel system because it was too high after switching to AMSOIL. Engines run higher RPM on the same fuel, reduced friction means better gas economy and better protection for your engine.
AMSOIL should save you enough per year in fuel savings to pay for all your vehicles lubrication needs. Save enough per year to keep your vehicle completely protected with AMSOIL- If you get an average of 20 miles per gallon and travel 15,000 miles per year you use 750 gallons of gas per year. At the present cost of unleaded gas ($1.35) in my area, you'll spend $1012.00 per year on fuel. If you can get a 2 mile per gallon increase (10%), your gas usage will decrease to 682 gallons or $920.00 per year. That's a savings of $92.00 per year! You can get your engine and transmission protected with AMSOIL for less. Even just a one mile per gallon increase would save $48.00 per year, which is enough to switch over your engine to AMSOIL for the year. So you see, just the fuel savings vs. regular oil will pay for your AMSOIL. The benefits you will see from AMSOIL will be longer engine life, better performance, less repairs, less downtime, less wear on the engine, your vehicle will stay newer for longer. You also save money in reduced oil changes. Click here to find out how.
With the use of all of these five products you can expect to get the best possible fuel economy. The more of the five you use, the better the milage you'll get. Use any AMSOIL synthetic oil, they are all fuel efficient, but the 0W-30 is the most fuel efficient.
1. AMSOIL Engine Flush

AMSOIL Fast Acting Engine Flush is made from a carefully selected blend of solvents an
d special cleaning agents that dissolve and disperse harmful deposits formed in the crankcase, cylinder walls, pistons and rings of an internal combustion engine. When used as directed, it cleans and restores operating efficiency to valves, valve lifters, rocker arms, and pistons for improved horsepower, fuel economy, and performance. Use before changing oil.


Why Clean Your Engine?

Chances are, when your engine was new it delivered the power and fuel efficiency it was designed for. But now, as your engine accumulates miles, things are happening that are adversely affecting its performance. Slowly but surely, your engine is gathering harmful deposits that will rob you of fuel economy and cost you money.
2. AMSOIL Series 2000 Synthetic 0W-30
Passenger car and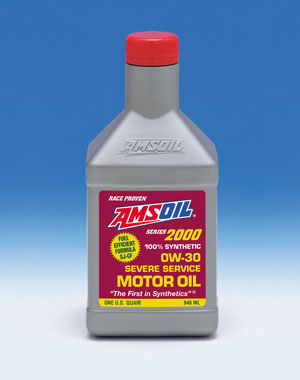 light-truck engines today are built for fuel efficiency and power. AMSOIL Series 2000 Synthetic 0W-30 Motor Oil optimizes efficiency and power without the sacrifice in wear protection that comes with many fuel-efficient, low-viscosity oils.

Testing shows AMSOIL Series 2000 Synthetic 0W-30 Motor Oil dramatically outperforms popular conventional and synthetic motor oils of much higher viscosity in wear protection.

Fuel Efficient Formula

AMSOIL Series 2000 Synthetic 0W-30 Motor Oil efficiently transfers energy from the engine to the drivetrain. Its low coefficient of friction inhibits the energy loss to "drag" common to high viscosity oils. Motorists seeking the ultimate in fuel efficiency may use AMSOIL Series 2000 Synthetic 0W-30 Motor Oil in place of higher viscosity motor oils.
3. Series 2000 Synthetic Gear Lube and Synthetic Automatic Transmission Fluid
AMSOIL Series 2000 Synthetic Gear Lubes are race-proven extreme pressure lubrica
nt engineered to meet the severe high-load and high-temperature demands of contemporary race and commercial vehicle differentials and gear-lube equipped transmissions. They provide the superior friction, heat and load control demanded by race drivers, the superior fuel economy required by commercial vehicle operators and the superior performance sought by all motorists.

Friction Reduction and Fuel Economy

AMSOIL Series 2000 Synthetic Gear Lubes offer exceptionally low coefficients of friction for superior power transfer, heat control and fuel economy.

In fact, independent testing shows class 8 vehicles with AMSOIL Series 2000 Synthetic 75W-90 Gear Lube in the differentials obtained up to 4.83 percent more mpg than vehicles equipped with another popular gear lube.
Synthetic Automatic Transmission Fluid
Improves fuel efficiency, reduces transmission temperatures and increases transmission life. Provides unsurpassed thermal stability and up to five times the service life of conventional ATFs. Delivers maximum protection for towing and other severe-duty applications. AMSOIL ATF resists thermal and oxidative degradation three times longer than conventional transmission fluids do. It protects clutches, planetary gears, valves, pumps and seals from damaging sludge and varnish deposits. AMSOIL ATF helps prevent component overheating and ensures cooler, smoother transmission operation.
4. AMSOIL Air Filters
AMSOIL oil-wette
d foam air filters keep oils and engines cleaner for longer periods with the most effective air filtration available today. AMSOIL air filters provide superior performance in all three critical areas of filtration: efficiency (dirt-stopping), capacity (dirt-holding) and resistance (air flow). AMSOIL air filters are uniquely designed to hold wear-causing dirt while allowing only clean air into the engine for better performance, better fuel economy, lower exhaust emissions and longer engine life. Also, AMSOIL air filters are washable and reusable for thousands of miles of trouble-free service. Tests prove AMSOIL air filters have up to 350 percent greater life expectancy than competitive air filters.
5. P.I. Performance Improver Gasoline Additive


Ideal for both fuel injected and carbureted systems. Dissolves and removes fuel system deposits and other contaminants for improved power and overall performance in gasoline engines. Reduces PCV and EGR system deposits. Reduces exhaust emissions (tests show up to 90 percent reduction). Improves engine idle, fuel economy, response and starting.

An initial clean-up dose of six ounces for ten gallons of gasoline restores up to 95 percent of an injector's original fuel flow. Periodic maintenance doses of one ounce for ten gallons of gasoline keep injectors and other fuel system components clean.

Performance Features

Cleans fuel injectors, intake valves and carburetors
Dissolves carbon and varnish deposits
Contains properties to control rust and friction
Reduces exhaust emissions
Increases fuel economy